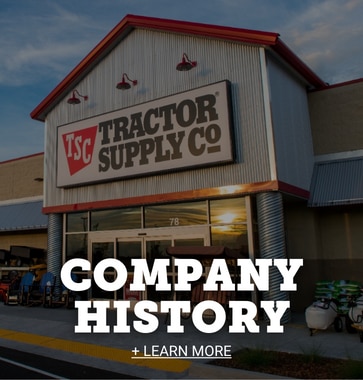 Company History
In 1938, Charles E. Schmidt Sr. of Chicago, Illinois, established a mail-order tractor parts business from his kitchen table, and by 1939, it had grown into a successful retail store in Minot, North Dakota. Today, with over 2,000 stores in 49 states, we are the largest operator of rural lifestyle retail stores in the United States and are committed to being the most dependable supplier of basic maintenance products to home, land, pet and animal owners.
Read more
Mission & Values
As a company focused on living out our Mission and Values, Tractor Supply is committed to "work hard, have fun and make money by providing legendary service and great products at everyday low prices." This mission statement is supported by 10 values – ethics, respect, balance, winning attitude, communication, development, teamwork, change, initiative, and accountability – that drive every business decision we make and the way we interact with our customers and Team Members.
Read more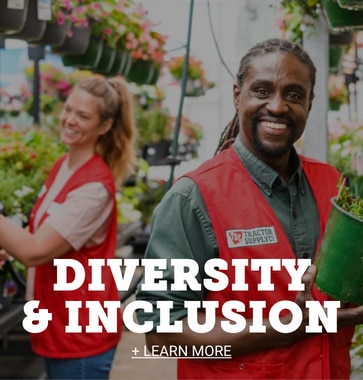 Diversity & Inclusion
Tractor Supply is committed to providing a welcoming and inclusive environment for our Team Members, customers, communities, and suppliers. We welcome different perspectives, ideas, and innovative thinking - so much so, that we refreshed our company's Mission and Values in 2021 to reflect the importance of the communities we serve and our company's commitment to DE&I.
Read more about our initiatives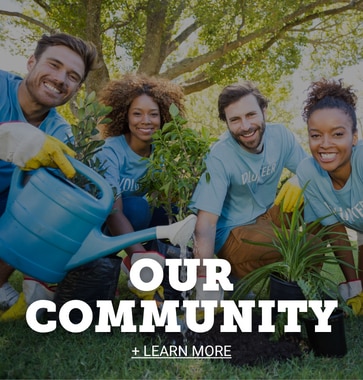 Our Community
Our community values have earned the trust of the folks we serve. They've also earned us a reputation for service that goes "The Country Mile." But service means more than helping customers save time and money. It means serving our communities and supporting the programs that strengthen them.To ensure we are helping the people we care most about - our customers and Team Members - we focus our corporate giving on four areas: Agriculture, Pets & Animals, Community and Veterans Causes.
Read more about our initiatives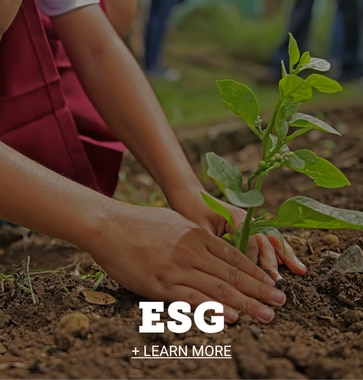 ESG
We call our sustainability program "Stewardship" because we know that we have to be good stewards of the land and our natural resources so that our children and future generations will have the same opportunities we enjoy today. We are building on our legacy as a purpose-driven company that helps our customers live Life Out Here.
Read more about our initiatives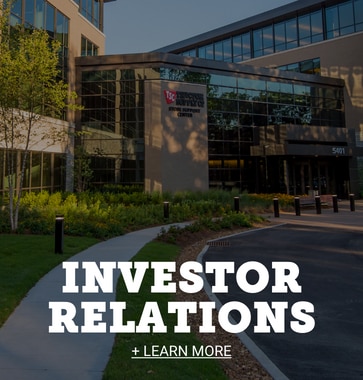 Investor Relations
Tractor Supply Company (NASDAQ: TSCO), the largest rural lifestyle retailer in the United States, has been passionate about serving its unique niche, targeting the needs of recreational farmers, ranchers and all those who enjoy living the rural lifestyle, for more than 80 years.
Visit our newsroom